9 min read
The Top 5 Cash Flow Forecasting Tools for Small Businesses
By: Helm on October 27, 2022
If you're a small business owner a big part of what keeps you up at night is likely - unpredictability. Especially unpredictability surrounding cash, and the flow of it in and out of your business.
If you've searched for ways looking to improve your cash flow management you've probably tried creating, or heard of, something called a cash flow forecast.
Already got the basics covered? Jump ahead to our top 5 tools here.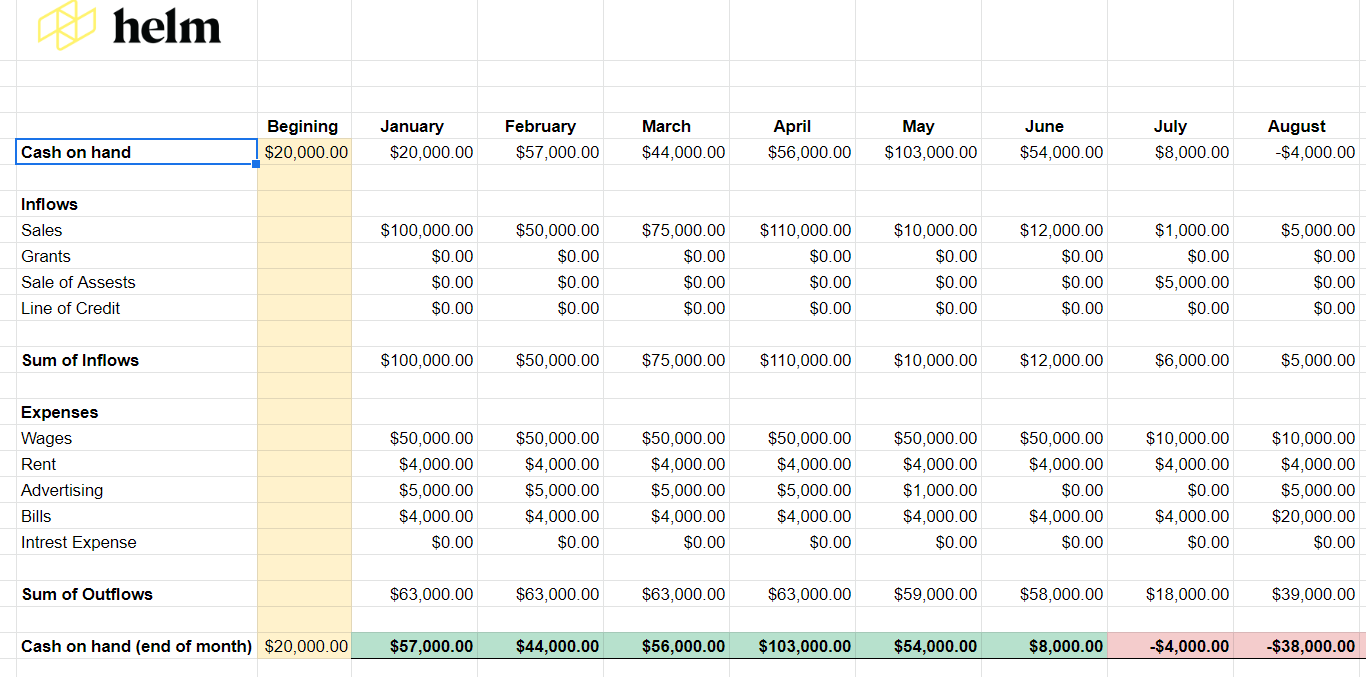 Above: Screenshot of a section of a cash flow forecast created in a spreadsheet. Get the FREE template here.
(If you haven't, or don't what a cash flow forecast is, don't worry we'll cover the basics below.)
If you have you may have run into the common frustration of spending hours in spreadsheets and tabbing in and out searching for financial data.
Spreadsheets are a great general tool, and most businesses rely on them for tracking many important parts of their operations.
However, when it comes to cash management, and creating cash flow forecasts, spreadsheets tend to be cumbersome, headache-inducing and time-consuming.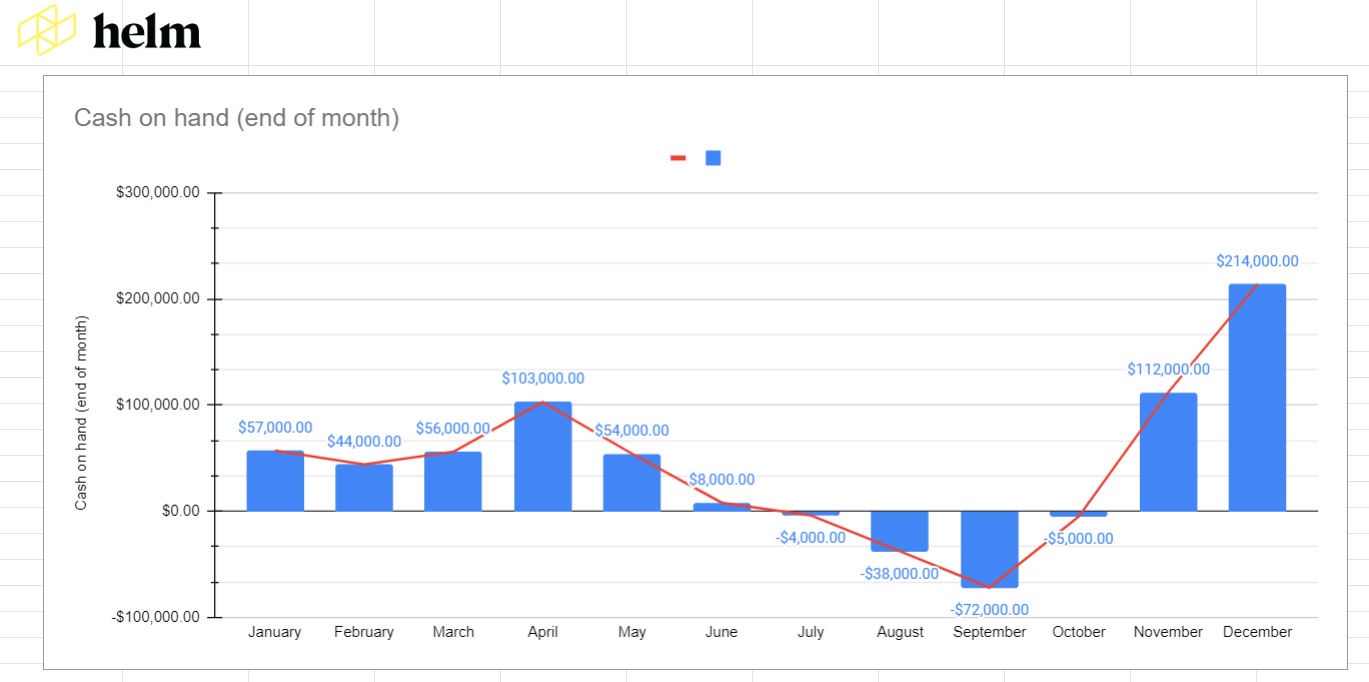 Above: Screenshot of a cash flow forecast viewed graphically.
If your reading this you've probably felt this pain, and are looking for a tool to help avoid it entirely.
Thankfully, there're many tools for cash flow management out there. In this article, we're going to discuss what you can expect from cash flow management software and introduce some of them.
Let's start by defining - what is cash flow?
First up let's cover some basics to orientate ourselves, so we know what features we should be looking out for. At a high level, cash flow is exactly what it sounds like.
Cash flow refers to all the cash in and outflows of cash from a business.
By 'Cash Inflows' we mean any source of cash moving into a business within a given time period. So, cash inflows are things like revenue from sales, revenue from the sale of assets, and funding received.
'Cash Outflows' refer to any transactions where cash is moving out of a business within a given time period. Common cash outflows include wages/salaries, rent and other payments.
(Note that cash flow and profit aren't the same thing)
With those fundamentals under our belt we can start to talk about managing and forecasting these cash flows.
What is Cash Flow Management and Forecasting
So, what do we mean when we say 'cash flow management' and 'cash flow forecasting'?
Cash flow management refers to the process of understanding and managing all the inflows and outflows of cash through a business. Closely related is 'Cash flow forecasting', which refers to predicting future cash flows and planning for future events.
Strong cash flow management and forecasting allows a business to make better financial and operational decisions.
What is cash flow forecasting software?
Before we dive into specific tools let's cover the basics of what you can expect from any potential cash flow management software.
Cash flow management software is designed to automate, clarify, and simplify the cash management process. Businesses use cash flow management software to help them predict future cash flows and improve their ability to make financial and operational decisions.
If your interested in learning more on why businesses use cash flow management software you can read a full breakdown of the advantages of using cash flow management software here.
What are some of the common features of cash flow management tools?
Here are some key and common features you should expect from any potential cash flow management software.
Integrates with accounting software
A big way in which these apps help is through the time saved, and the accuracy ensured with through synching with your accounting software.
You'll find some apps are only compatible with certain platforms while others will integrate with several, or all of the major platforms.
No matter the accounting software you're using (Quickbooks Online, Xero, Sage, ect...), check to make sure the app you choose has the ability to synch with your system.
Cloud based
Cloud based systems have the advantage of giving you more freedom, and make collaborating with stakeholders much easier. It can also make synching with you accounting software simpler.
If you don't want to be tied down to specific computers, or know you'll be collaborating and sharing results frequently keep an eye out for cloud based solutions.
Scenario planning
Scenario planning is one area where cash flow management apps can really shine.
When we create cash flow forecasts we are looking to know our predicted bank balances and the state of our accounts receivable and payable. But why is it we want to know these things?
Of course we want to make sure there is money in the bank, but we also want to be able to plan for what we can do with our cash (or lack there off).
Software with strong scenario planning features will not only let you view and manage your future cash flow, but add and test scenarios side-by-side.
Here are the 5 best cash flow forecasting software for small business
There are many available options when searching for cash flow management tools. This list is not exhaustive, but it does highlight some of the best cash flow management tools out there targeted towards small businesses.
Of course, you know your business best, so prioritize features that are key to your situation, and explore your options.
Luckily all the tools we are sharing today have some sort of free option or trial period, so you can easily try them for yourself.
Xero Short Term Cash Flow Tool/Report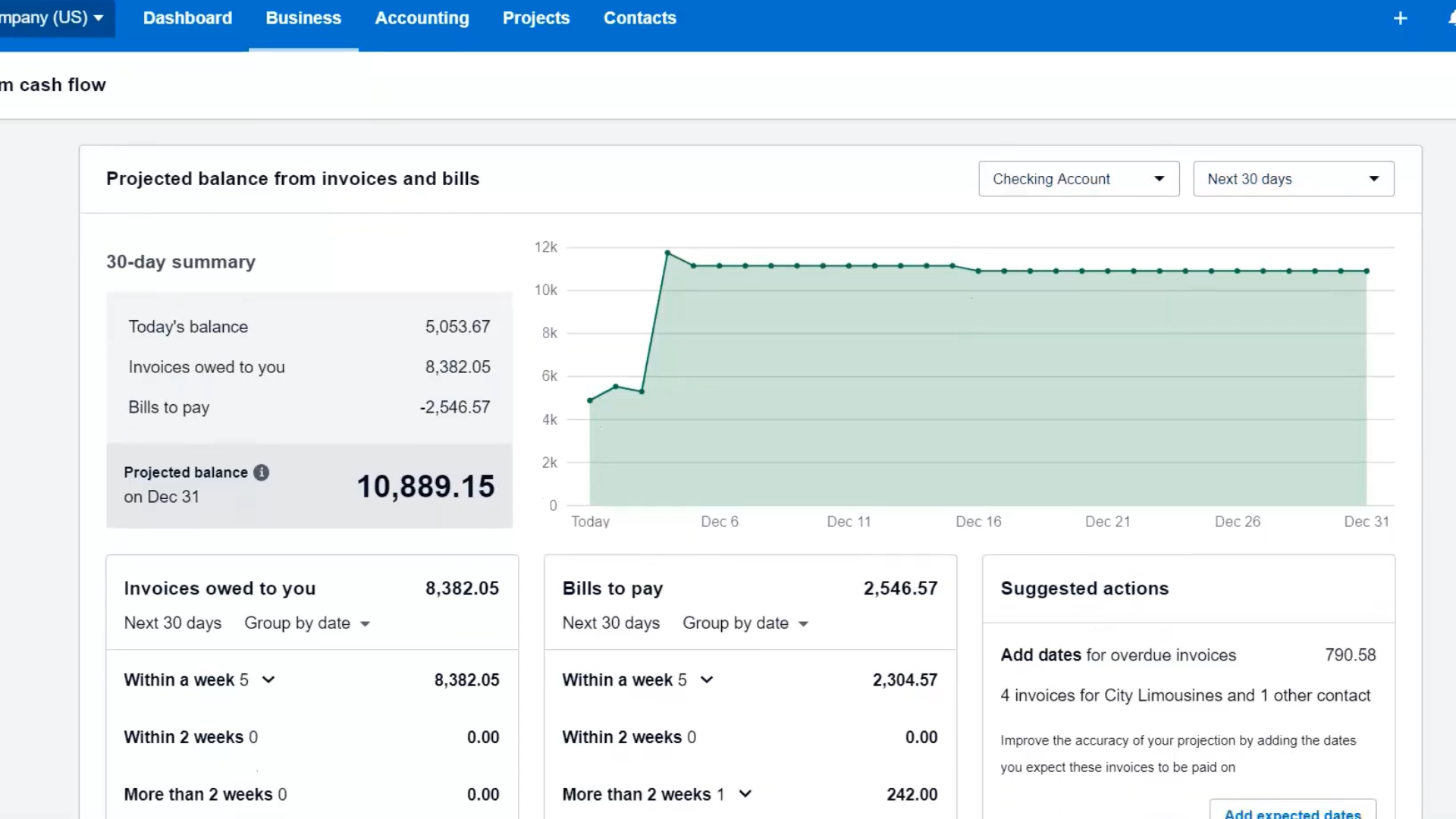 For Xero users who aren't currently doing any kind of cash flow forecasting or management Xero's built in tool can be a great starting place. Best of all it comes free with all levels of your Xero subscription!
Check out our guide on how to use Xero's forecasting tool here.
Some Key Features:
Xero offers simple 7-day and 30-day cash flow reporting.
You'll be able to see upcoming invoices and bills to paid as well as your projected cash balance.
Drawbacks:
Xero's tool is limited to extremely short term cash flow management - with options for only 7-day and 30-day forecasts.
On top of this it lacks any form of scenario planning to help you plan and test for the future, making it substantially less flexible than other tools on this list.
Price: *Included with subscription to Xero
QuickBooks Online Cash Flow
Like Xero, Quickbooks Online offers a built-in tool free for users of their accounting software. For QBO users, it serves as a great starting point for newcomers to cash management.
Check out our guide on how to use QBO's forecasting tool here.
Some Key Features:
QBO's tool will create a forecast for up to the next 12 months that you can view as a bar or line graph.
You can view all your upcoming transactions as well as take advantage of some basic planning options with the ability to add events without impacting your books.
You can also modify existing transactions to test how the change would impact your cash position.
Drawbacks:
The biggest drawback is while you can edit and add events within the tool, you cannot test and compare multiple scenarios at once.
The tool is also still tailored to those looking for a simplistic forecast, and lacks helpful and advanced features you'll find in other more specified tools.
Price: *Included with subscription to QBO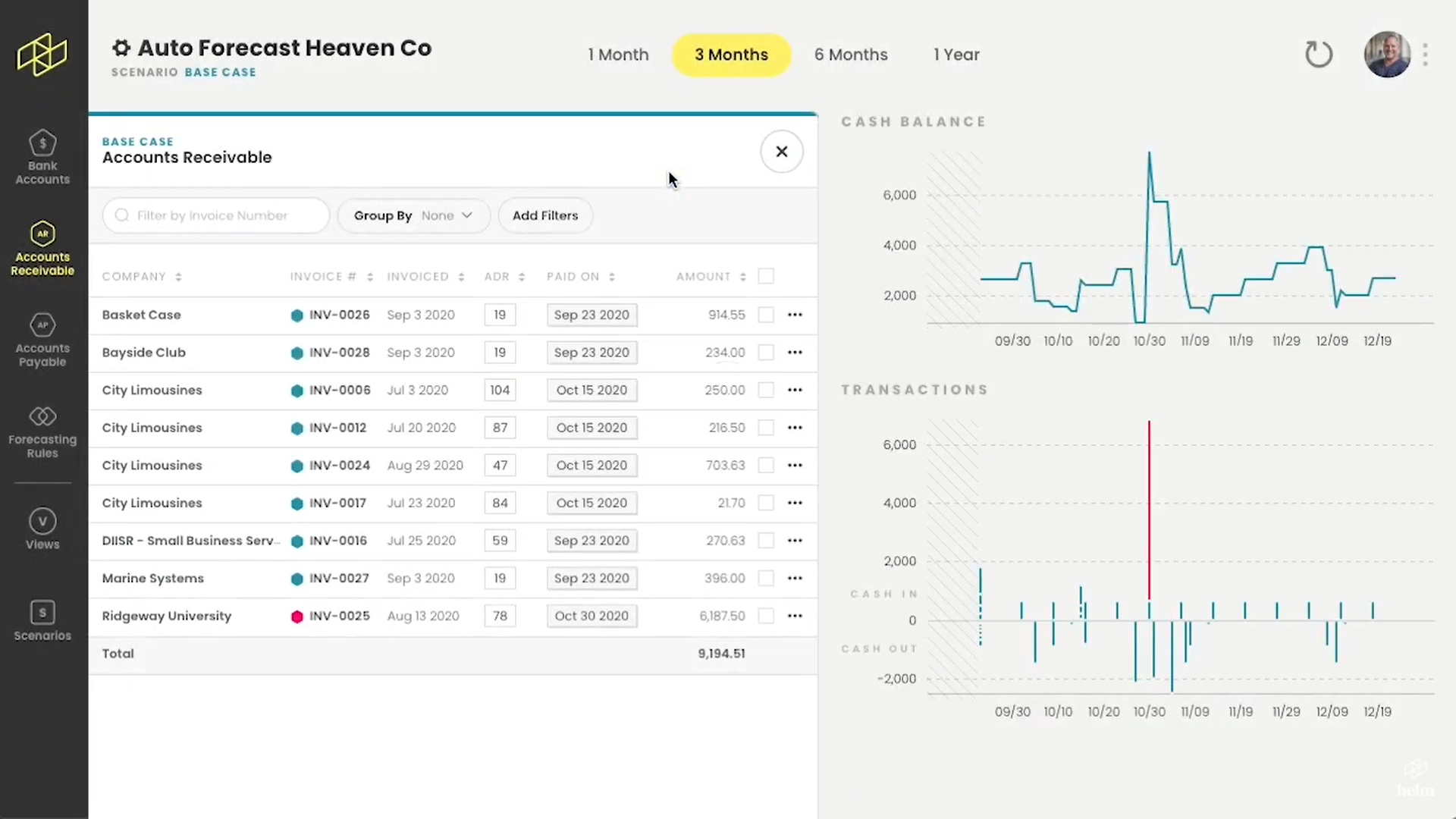 Designed by accountants and small business advisors, Helm lets you see your future cash position in real-time, so you can make confident business decisions without wasting hours planning in spreadsheets.
Some Key Features:
It integrates with major accounting software: QuickBooks Online, Xero, Sage and Veem.
Helm provides 1-month, 3-month, 6-month and 12-month forecasting with various viewing options, and let's you test unlimited side-by-side scenarios.
It will also analyses the historic transaction data of each contact to predict how you will be paid in the future.
You can also view a key financial metric dashboard to stay on top of your business' financial health.
Drawbacks:
Helm is limited to forecasting up to one 1 year making it best suited to short term planning.
While you can export reports to Google Sheets/Excel Helm currently does not support any in app budgeting.
Price: US$ 49/month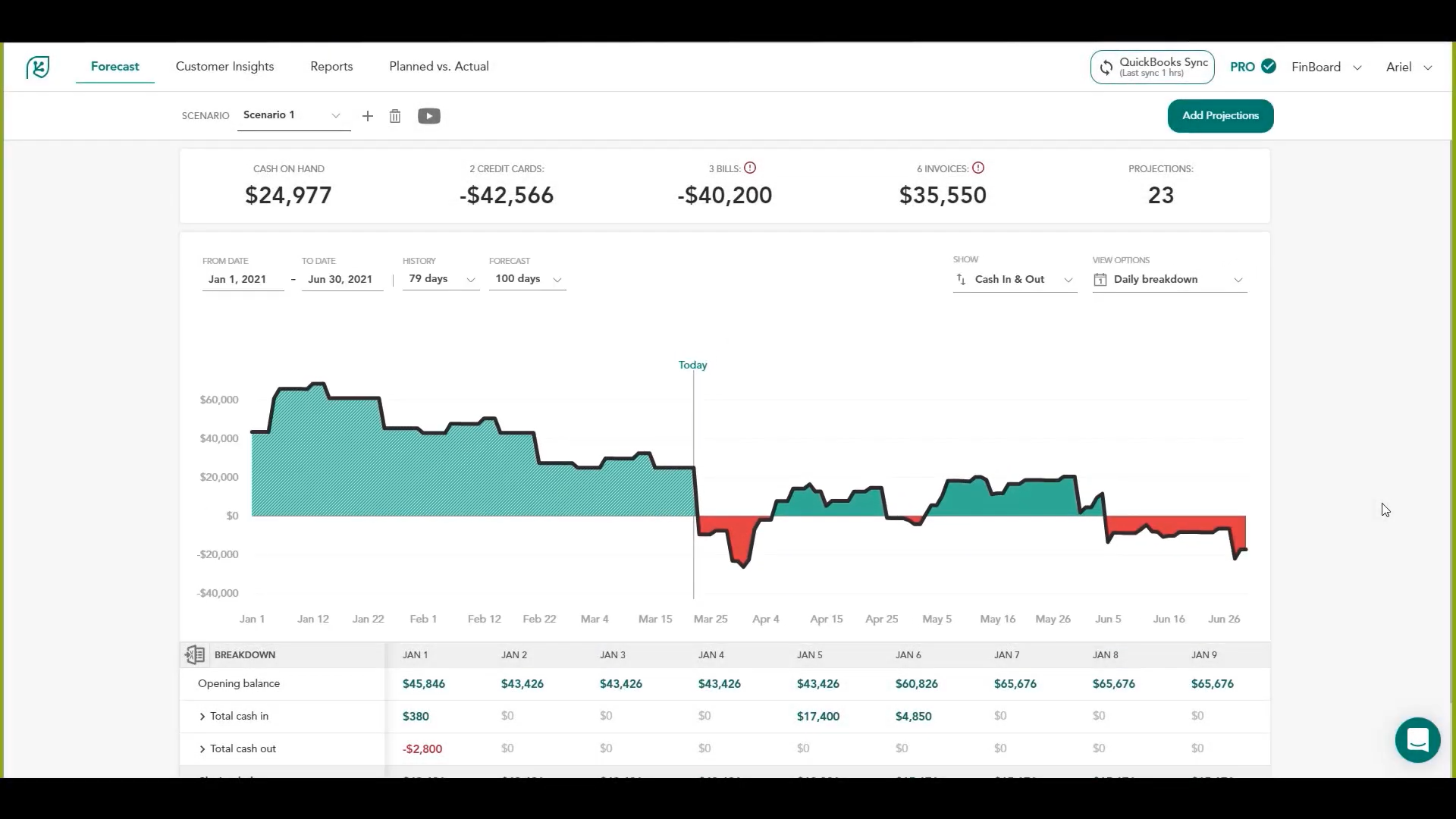 Cash Flow Frog gives you a clear picture of your business' current cash balance and see much cash you will have at any given point in time.
Key Features:
It integrates with major accounting software: Xero, FreshBooks, QuickBooks Online, QuickBooks Desktop, and Sage Intacct
Cash Flow Frog lets you analyze and plan your cash flow up to 3 years ahead using daily, weekly, monthly and quarterly perspectives.
Lets you view planned versus actual reports.
Has the ability to consolidate data from multiple companies into a single cash flow forecast.
Drawbacks:
The number of users is limited to 2 and 10 users for the standard and pro plans respectively.
Like with users, the number of scenarios you test is limited in the standard plan to just 3.
Pricing is based on your revenue (price increases based on revenue).
Price: US$ 23 -95/month (scales by plan and revenue)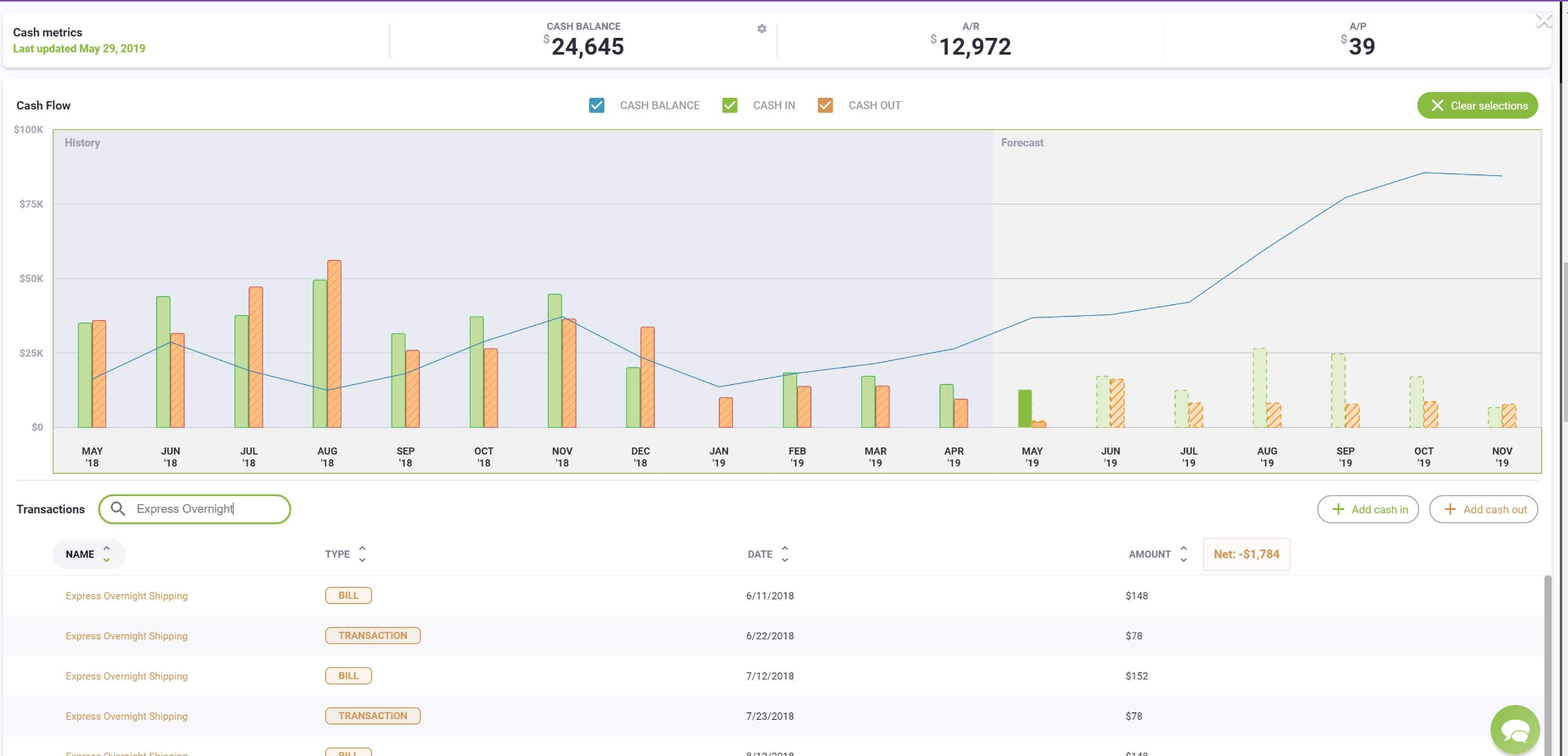 Cash flow tool is designed small business users and is unique to this list in that they offer a completely free lite version of their software with a limited feature set.
Key Features:
Free lite version available.
Integrates with QuickBooks Online and QuickBooks Desktop.
Provides 4-week and 6-month forecasting.
Unlimited users in Plus and Pro plans (1 Users in free plan).
Includes a cash flow calendar, heat map and what-if planning.
You can access built in video coaching and tips.
Drawbacks:
Limited to 6-month forecasting
Access to features highly dependent on which plan you choose.
Pricing highly dependent on which plan you choose.
Price: US$ 0 -100/month (scales by plan)
Choosing the right tool for you
Remember you know your business best. Prioritize the features most beneficial to your business to find the best tool for you.
If you'd like to see how Helm can help you can book a time to speak with and advisor here or learn more here.